A trip to the Pink city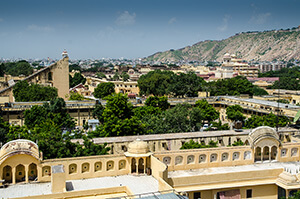 Jaipur is a city best discovered through walking for there are too many by lanes and alleys hiding gems to be explored. Your journey will lead you to taste spicy food, see great heritage in the palaces and havelis and unravel the charms and mysteries of this colorful city. You can even explore the greater city by riding a 'tuk-tuk' as famously depicted in the movie The Best Exotic Marigold Hotel. The pink "walled" city has tiny lanes dissecting it with exotically named lanes as Maharani ka Rasta, literally translating itself as the road for Queens and quirky, niche shops to your liking. A variety of walks can be organized for you- the historical route, the bazaar route or you can just amble about the city on your own discovering its infinite mysteries.
The city pours out in constant hustle-bustle with bicycles, tuk-tuks, camels, tractors, rickshaws, hand carts, cows, and hawkers all over. But it is this commotion that adds color, spice, and variety. You will lose yourself in the delightful sights, smells and sounds. We can organize a tour just to your liking keeping in mind your interests and tastes. If the crowds and commotion of the city drain you, you need not worry for the comforts of Sirsi Haveli awaits you at the end of the day. You can return to the calm and quiet of our natural surroundings and look back on your day with Jaipur with delight.